MooFest
Saturday, June 5 - 10 am - 5:00 pm
Downtown Athens, TN
Entertainment on 3 stages
200 food and craft vendors
Local shopping
Mayfield Dairy Contests
Sounds of Summer 9th season kickoff at 7:00 pm at Market Park Pavilion featuring Will Carter & Emi Sunshine!
Festival Schedule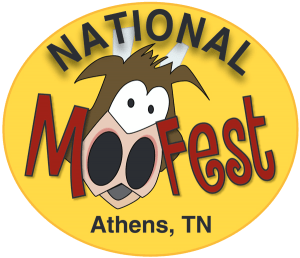 MooFest
 Saturday, June 5, 2021 | Athens, TN
10:00 am – 5:00 pm
Covid regulations:
PANDEMIC PROTOCOLS
MooFest is committed to prioritizing the health and wellness of our community. The following protocols will be in place to keep our staff, attendees, and volunteers safe and reduce the likelihood of COVID-19 spread in our community:
Masks are required for all patrons over the age of 12 and must remain on throughout the event unless guests are seated in the concession area.
Temperature checks and COVID-19 symptom screenings will be required for all staff, volunteers, and vendors before each shift.
Hand washing/sanitizing stations will be available throughout the festival lawn.
Ground markers will be installed anywhere a line may form to encourage physical distancing.
Food and beverage service will be confined to a specific area where attendees will be required to sit while eating and drinking.
High traffic areas will be regularly cleaned and sanitized.
All tents and tables will be separated by a minimum of 6ft on all sides.
Performers will be at least 12ft from the audience.​
Please follow CDC/Health Department recommendations as you decide whether to participate in events. As the situation evolves, so will our approach to keeping you safe. We thank you for your patience and flexibility as we manage this and ask that you check our website for updates.
Friday, June 4 | Setup and Vendor Check-in
Saturday, June 5 – Morning Events
More Info
Athens Lions Club
Moo Run
5K Run  –  1 Mile Fun Walk
Eureka Trail Park
Athens TN
5 June, 2021
Registration 6:30 AM – 7:15 AM
Race starts at 7:30 AM
Walk starts at 7:35 AM
*Please self-screen using basic Covid guidelines. If you are experiencing fever or any symptoms or been exposed to Covid, please do not participate for the safety of others.
*Register online or postmark mail entry by May 23 to be sure to receive a T-shirt and reduced entry fee. After 23 May entry fees increase and T-shirts will be given on a first-come basis.
Registration – Start and Finish @
Eureka Trailhead Athens TN
Parking available at Eureka Trailhead
1400 E Madison Ave Athens TN 37303
5 K Run / Walk Printed Entry Form
The 5K run is an out and back course on the Eureka Trail Athens TN, a crushed gravel with little to no grade.  The start/finish line will be at the trailhead. Water stations will be located at the Fairview road crossing about 1/3 of the way on the course.
The 1 Mile fun walk will be held on the health triangle portion of the trail at the trailhead.
Proceeds benefit Athens Lions Sight and community programs
Trophies and Medals for Runners
Prizes for Walkers
Door Prizes for All
Athens, TN Soap Box Derby
More Info
Welcome!  Soap Box Derby racing is an event that the whole family can enjoy.  Each participant will use Science, Technology, Engineering and Math to prepare their car to race.  
The 2021 Athens Soap Box Derby will be held on June 5, 2021.
In 1995, the Athens Parks & Recreation Department held the first local Soap Box Derby race, and since that time, Athens has sent 24 champions in the Stock, 21 champions in the Super Stock, and 10 champions in the Super Kids divisions to the world championships in Akron, Ohio.  Each year, over 30 drivers in the local race compete to be the champion that gets to make their mark on Akron.
Kiwanis Pancake Breakfast
More Info
The Kiwanis Pancake Breakfast is one of three annual fundraisers that help fund more than $40,000 in requests each year, most of which are local to the Athens area.
Breakfast will include all-you-can-eat pancakes and sausage. Coffee, milk, and juice will also be provided. Tickets can be purchased from a Kiwanis member ahead of time. You may also pay on the day of the event. Breakfast will be served from 7:00 am – 11:00 am.
Saturday, June 5 – Festival Hours
More Info
Mauris id finibus tortor. Sed urna velit, sagittis ut tristique a, finibus id mauris. Morbi euismod purus eget orci lobortis, consequat tempus nisi iaculis. Sed porta odio vitae nunc molestie euismod. Ut dui erat, faucibus non ipsum quis, aliquet odio.
More Info
Sounds of Summer kicks off the 2021 summer season at MooFest with Emi Sunshine and Will Carter  The fun will begin at 7:00 pm at Market Park Pavilion! Did you know that Emi Sunshine was on American Idol?